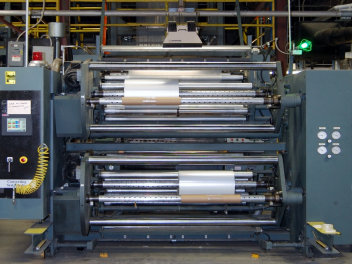 FILM EXTRUSION
We manufacture mono-layer and 3-layer co-extruded polyethylene blown film from prime, FDA Resins.

Computer controlled equipment assures you of repeatable quality every order. Whether you are looking for shrink film, form-fill-and-seal sheeting, tubing or center-fold or bundling film, Manchester Packaging Company makes it. We also make colored films in varying tints to opaque.

If you need liner, clarity, fractional melt, tough linear low density blends, or metallocene; call us with your specifications. Our resin blends can offer you significant savings through down-gauging without loss of physical properties. For environmental source reduction that increases your profit without sacrificing performance, contact us.
Film Sizes and Constructions
Our equipment allows us to create custom size film and constructions to fit your needs. The following table is an example of the different constructions and sizes we are able to produce.
| Film Type | Minimum Size | Maximum Size |
| --- | --- | --- |
| Layflat Tube | 4 inches | 60 inches |
| Gusset Tube | 4 inches x 2 inches | 48 inches x 30 inches |
| Center-Fold | 4 inches | 60 inches |
| J-Fold | 4 inches | 60 inches |
| J-Fold Lip Sizes | 1/4 inches | 8 inches |
| Single Wound Sheet | 4 inches | 60 inches |
All film is wound on 3 inch cores under careful tension control to assure quality roll conformity. 6 inch cores can be accommodated

Lower minimum orders than many film producers. Order as little as 150 pounds of narrow tubing 4 inches to 14 inches or 500 pounds in the 15 inch to 48 inch range. Larger sizes may require 1000 pounds minimum depending upon construction.

Film may be corona treated for printing or adhesive applications.

Film may be printed in-line and/or on our high speed stack and CI Flexo presses capable of printing 4 color line work or up to 8 color process designs.
---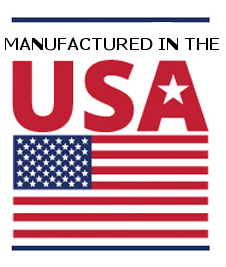 Applications
Shrink Bundling
Form Fill and Seal
Converting
Laminating
Printing
Degradeables
Green Initiatives
We recycle and reprocess in-house, 99% of the production waste made during our production process. Everything from plain, colored, printed film and bags are recycled in our facility.
BioPolymer Materials
We have the ability to use the following BioPolymer resin to make compostable film and bags for your use.
Uncolored Biome Bioplast 107 granules with a maxmimum thickness of 185 microns (7 mil). [20210216-02] complies with ASTM D6400 and/or D6868 in accordance with the terms and conditions of the "International Biodegradable Products Institute, Inc. Licensing & Certification Program for Compostable Products"
US Postal Service Mail Overwrap
We provide Mail Overwrap, approved for use on automation rate flat-size mail pieces in compliance with DMM standards of the U.S. Postal Service, effective February 1, 2007.

Our polywrap can be used on automation flat-size first-class mail, perodicals and standard mail and on barcoded bound printed matter mail pieces, as certified by the U.S. Postal Service.
3-Layer Co-Extruded Film
Our new three layer Co-Extrusion line takes advantage of the characteristics of the film and equipment. Co-Extruded film may provide improved physical properties and reduction in additives required for good processing.
Please contact us to discuss your specialty product needs.